Howdy, current and future SHP friends! It's Mike Lewis, SHP 1986-1990.
I recently re-assumed leadership of the SHPAA, which I founded in 1996. Back then, there were two motivations for launching the group. First, the 20th year of SHP was about to happen in 1997, and there was a desire to throw a big shindig in honor of the occasion (which we did, and it was swanky). Second, SHP was under financial duress due to the Nebraska Legislature making it harder for ESUs to raise revenue, and there was a desire to ensure the survival of Summer Honors.
Today, similar motivations are prompting an SHPAA revival. Recent state legislative acts have forced SHP to largely depend on private fundraising, and the SHPAA was proud to join this year's efforts, gathering $10,000 in donations for SHP 2023. Similar annual campaigns are planned for SHP 2024 and beyond. And of course, our activities aren't limited to fundraising – we're wanting to throw an even bigger and swankier shindig to mark the 50th year of SHP in 2027. All these efforts require getting our organizational ducks in a row – improving our communication channels, broadening our alumni network, keeping records, maintaining membership and finances, and so on. We're working on all this now, and it's exciting stuff.
What motivates me personally is an admittedly quixotic goal: to re-create the atmosphere and spirit of SHP in my adult life. SHP alumni are, more than anyone else, "my people." We have similar backgrounds, similar interests, and similar temperaments, no matter our ages or political or religious views or ethnic identities, no matter whether we've stayed in rural Nebraska or relocated elsewhere. We all care deeply about knowledge and learning and creative pursuits. We all want to understand humanity, the world, and the universe as best we can. And, at the same time, we all retain strong emotional ties to the area where we grew up. Whenever I meet an SHP alum who is outside my generation, I feel an automatic affinity with them, and it reminds me of the strong affinity I felt with SHPers of my own generation when I attended the program in the 1980s. Through the SHPAA, I'm hoping to make a lot of future SHP friends across the generations – and I want all of you to have the chance to do the same.
Lifelong friendships
A hallmark of the Summer Honors Program is how it creates lifelong friendships. How cool was it to see all those pics posted in our Facebook group of Tim Burke, Doug Walters, and Hrannar Baldursson cavorting around Iceland together? Think about it: Those guys wouldn't be friends were it not for Summer Honors. Why don't we follow their lead? Share your own pics of you and your SHP friends doing cool things together in your adult lives. Either post them in the Facebook group or email them to info@shpaa.org. I'll start. Here's a photo of, from left, Dave Burchell, Mike Carstens, Dana (Johnson) Tuss, and me at my wedding reception in 2017.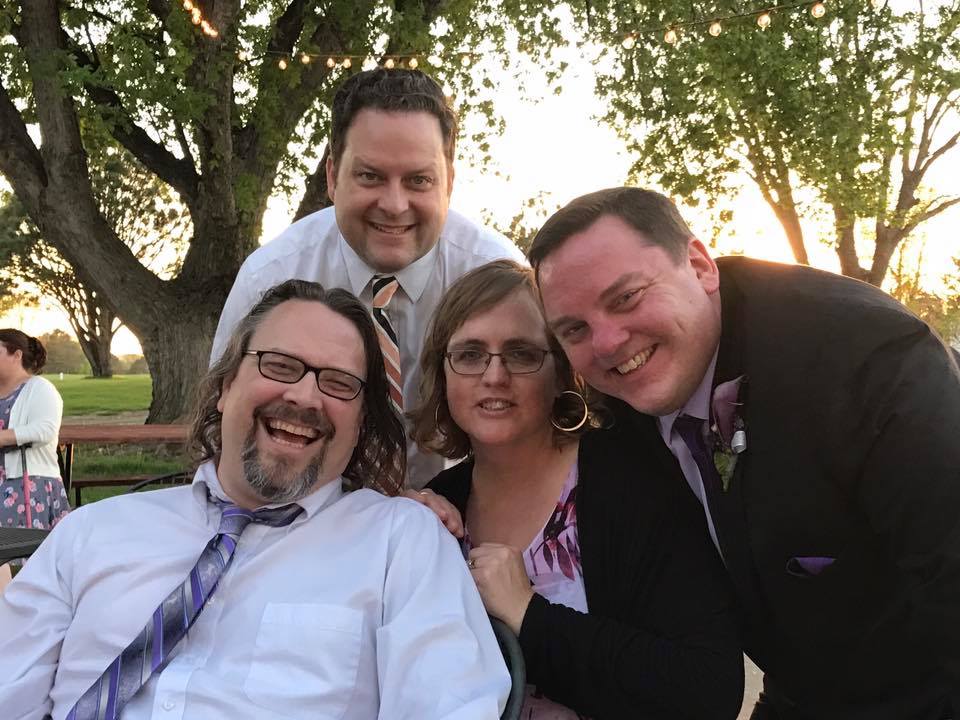 SHP 2023
This year's Summer Honors Program starts this coming Sunday, June 11, in Holdrege. Here are some good times for SHP alumni to visit the program. (SHPAA board members are attending the cookout and graduation, at least.)
Wed June 14, 5:30-8 pm – SHP Poetry Slam & Talent Show at Holdrege High School, 600 12th Ave.
Thu June 15, 6-8 pm – Join the SHP instructors for dinner and trivia night at Lost Way Brewery, 614 3rd Ave.
Mon June 19, 5:15-8 pm – SHP Cookout at YMCA, 1415 Broadway St. (RSVP to info@shpaa.org if you plan to attend the cookout)
Wed June 21, 6-8 pm – SHP Drama Production (The Alibis) at The Tassel, 1324 Tilden St.
Fri June 23, 10 am-noon – SHP Reception & Graduation at The Tassel, 1324 Tilden St.